It's the Midsummer Classic. The middle of July. Yes, All Star Weekend is here. This years game will be played in the House That Ruth Built. This is the final year the New York Yankees will play their games in the historic Yankee Stadium. A much better choice than Shea Stadium, also meeting its maker. That place smells like piss and looks like shit.

And what better way to bid the stadium that hosted 26 World Series Champions than saying goodbye in style. Sure the Yankees would love to win one more title there but the way their season looks, They might not even make it to October.

The jerseys worn during batting practise for both squads will don the Yankees colors. The away team, the National League, will wear grey jerseys resembling the Yankees away uniforms. The American League will wear a solid navy blue. It would have been more fitting that they wore pinstripes.



This is still a funny picture to me. Red Sox must be puking seeing their beloved Big Papi rocking the navy and grey. He isn't alone as Manny Ramirez, who was once rumored to go to New York a while back, Kevin Youkilis, Dustin Pedroia, Jason Varitek, and JD Drew (what the fuck?) will be wearing them. They must be thrilled it isn't pinstriped.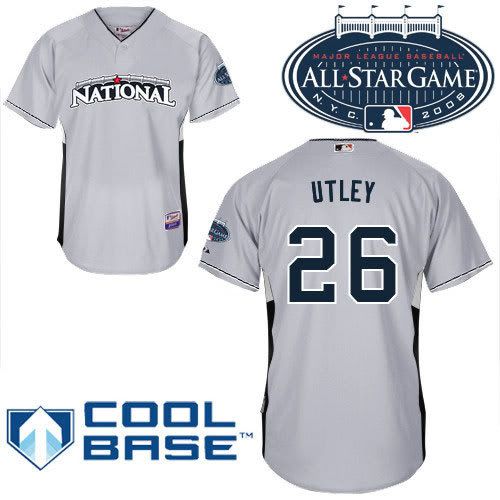 That is a sight that Phillie fans pray they never ever see either.

Chase Utley will be joined by Brad Lidge and hopefully Pat Burrell, who has 2 shots to make it. First, if he doesn't make it as the 32nd man in a fan voting process (VOTE NOW YOU IDIOTS!), he may get in because starter Alfonso Soriano is injured.

Bon Jovi will be performing for the All Star game as well. He is probably the one rock star that we all will never admit liking. He's like Michael Jackson, minus the fucked up head.

All Star schedule according to MLB.com:
July 11-15
• DHL All-Star FanFest

July 13
• Taco Bell All-Star Sunday featuring:
• XM All-Star Futures Game
• Taco Bell All-Star Legends & Celebrity Softball Game

July 14
• Gatorade All-Star Workout Day featuring:
• MLB All-Star Batting Practice
• State Farm Home Run Derby

July 15
• MLB All-Star Game Red Carpet Show presented by Chevrolet
• 79th MLB All-Star Game