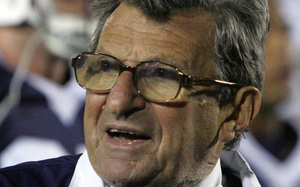 Joe Paterno earns $512,664 annually as a base salary coaching Penn State.

According to the State Employees' Retirement System, Paterno will earn a base salary of $512,664 for this year. That number does not include compensation for television and apparel contracts or other miscellaneous sources of income.

While his base salary is nowhere near what the highest-paid college football coaches earn - Alabama's Nick Saban tops out at $4 million a year - Paterno's total income is likely comparable to those of the other big-name coaches of his stature.
What's the big deal about how much money he makes? Penn State football still brings in $30 million in profit every year.