Gonzaga 70, St. Joseph's 65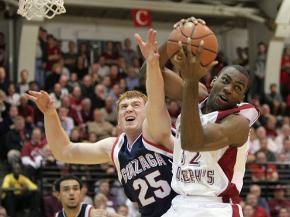 In front of a standing-room-only crowd, St. Joes forced overtime against 19th ranked Gonzaga, but could not pull of the upset. The Hawks trailed by seventeen early and led by six late, but finally lost in overtime 70-65. They shot 1 for 7 in extra time.

"I never thought we had the game in our grasp," Hawks coach Phil Martelli said of the six-point edge. "On offense, we were not very good. I thought we were good when we were able to run, but even some of the run-outs were broken plays and not efficient enough for as much time as we spend running the floor."
St. Joseph's falls to 3-2 on the season. They host Penn State tomorrow.
Temple 90, Ohio 88
Coming out of the final huddle, his team down by a point with 7.6 seconds left at the Liacouras Center, Temple senior Chris Clark passed along a tip to teammate Mark Tyndale: that he would knock down the shot if he got a pass.

"I didn't hear him," Tyndale deadpanned at Temple's postgame news conference.

But after Tyndale took the ball straight up the court and quickly got double-teamed, he saw Clark open on the left wing - with nobody within 12 feet of him. As promised, Clark knocked it down, hitting an open three-pointer with 1.9 seconds left that gave the Owls (3-4) a 90-88 thriller over Ohio University (2-2) in their home opener and ending a string of early-season heartbreaks.
Temple plays Towson next Thursday.
Drexel shot 15 of 50 (30 percent) from the floor to watch George Mason set a school record for margin of victory over a CAA team.
Drexel hosts Creighton tomorrow.