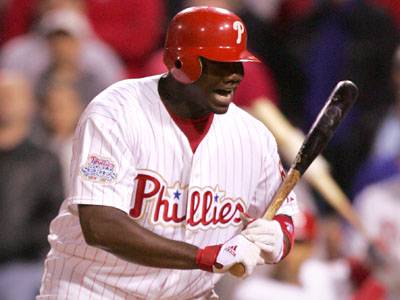 The World Championship defense has finally begun, and Brett Myers looked very similar to the Brett Myers we saw early in 2008. There were positives to take from his start that fair much better than last year.

Myers made three huge mistakes on pitches for home runs, but he did rebound after a rough first 2 innings and managed to pitch 4 scoreless inning the rest of the way. This offense should be able to score 4 runs every game (well except for when Derek Lowe and other sinkerballers pitch).

If Myers had only giving up two runs last night, the offense still did not do enough for a win. Since the Phillies lost their main right-handed power-bat, they really need to rethink their batting order. Sure, Ibanez hit lefties well last year, but over the last three seasons, Ibanez has posted .269/.324/.410/.734 against lefties. Not exactly a replacement for Pat Burrell. Overall, the Phillies will likely face more right-handed pitching throughout the year, so it will not come out to much, but I really don't want be fed more bull shit about how Ibanez can hit lefties. His OPS drops from .893 (last 3 seasons) to .734. That's a huge drop-off. It may even been considered near the standard, but they needed to add someone that could pound left-handed pitching, besides Jayson Werth.

So what do they do? Raul Ibanez is a Phillie and he's a very good hitter, but the Phillies may need to tweak their traditional batting order to help this line-up in the late innings. Sure, last night could just be an anomaly, but I think we'll see the lefty, lefty, lefty 3-4-5 hurt us more times than not when they're facing lefty closers and lefty specialists. This batting order doesn't force the opposing manager to have to juggle his bullpen as much in late innings.

I'd like to ask two questions: Is it time to move Rollins out of the lead-off spot? Can Jayson Werth be that all-important protector of Ryan Howard out of the five-hole?

It'd be interesting to see Jimmy Rollins batting somewhere different than the lead-off spot. Both Victorino and Rollins offer similar on-base percentages to that spot in the order, so you'd think they'd be interchangeable--or would they? In a very small sample size of only 132 plate-appearances, Shane Victorino did not fair that well in the lead-off spot. It could have been just been part of a slump opposite to the effect of when he bats 6th and posts an OPS+ of 157. It's early enough in the season where Charlie could tinker with the line-up. If Victorino moves to the lead-off spot, I think a line-up as follows could be expected:
Victorino/Werth/Utley/Howard/Rollins/Ibanez/Feliz/Ruiz or Victorino/Utley/Rollins/Howard/Werth/Ibanez/Feliz/Ruiz.

The more likely solution would be for Charlie just to move Victorino up to second and then hit Werth in the 5 spot in front of Ibanez. This move would also put some speed on the base paths directly in front of Ibanez, which would allow him to knock in more runs from the 6th spot. Phillies fans need to be aware that it is very unlikely that you're going to see 3 players knock in 110+ RBIs. Utley will steal some of Howard's RBI's and Howard will steal many of Werth or Ibanez's RBIs. Moving Ibanez down to 6th offers more speed and balance in the line-up.

In the end of it all though, it was 1 game. April 5th means as much as May 21 and September 10th. There are 161 more games and the offense will fair better more times than not.