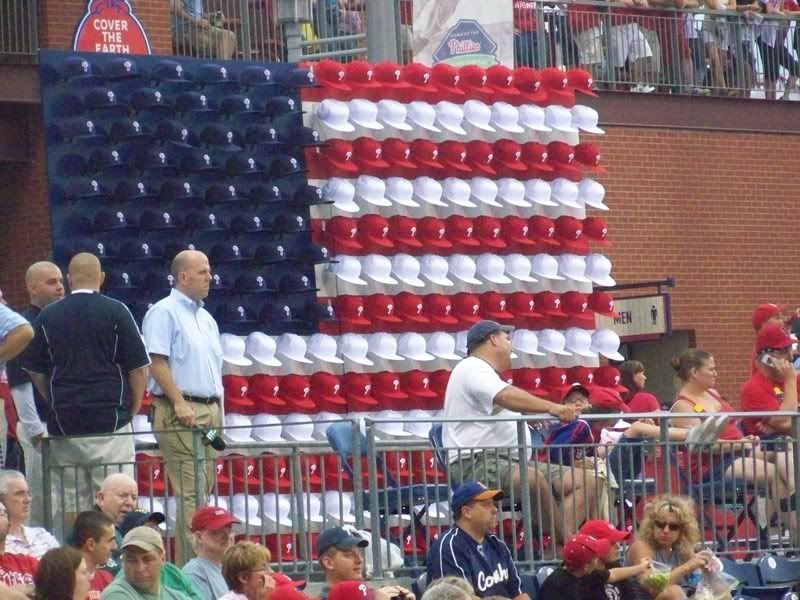 It was a wet and wild game at Citizens Bank Park. No offense and a lot of pitching. On a night where we, as a nation, honor the birth of our great country, the nation's first capitol overcame Johan Santana to win 3-2.

Shane Victorino provided the heroics with his RBI single in the 9th, driving in Pedro Feliz with 2 outs. Pitcher Duaner Sanchez struck out both Ryan Howard and Pat Burrell in the bottom of the 9th before Feliz doubled. Victorino hit a line drive to right to score in Feliz to win the game.

It was a very patriotic evening at CBP, with the 23rd sell out crowd of the year. Before the game, a small tribute was payed to the men of service, current and veterans. God Bless America was also sung during the 7th inning stretch.


I almost feel bad for Santana. He went 8 innings, giving up 2 runs on 6 hits, striking out 6. His only hiccup came in the 6th where he allowed 4 singles that scored both Jayson Werth and Chase Utley. They were driven in by Howard and Burrell respectively.

J.A. Happ took the mound for Philly and was sub par. He threw 90+ pitches in only 4.2 innings of work. He was taken out with the bases loaded and after 2 runs came in. Chad Durbin relieved him and struck out Carlos Beltran to stop the bleeding. Happ finished with 2 runs allowed on 3 hits, 4 walks, and 3 strike outs.

Durbin's time of relief was amazing. He saw 7 batters and struck out 6 in his 2.1 innings pitched. Ryan Madson pitched the 8th giving up a hit and Brad Lidge threw 4 pitches to earn the win in the 9th.

Jayson Werth was the lead off hitter for the Phillies and had 2 hits. Howard also had 2 hits and Feliz had the only extra base hit for Philadelphia.