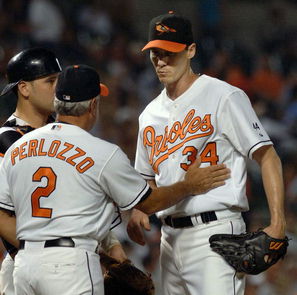 According to Phollowing the Phillies,

Kris Benson was impressive today in his first live-game environment today since September of 2006. Benson allowed 3 hits while walking one and striking out one in 3+ innings of a simulated game. He threw 45 pitches.

"I felt real well, real good I made some good adjustments with the breaking pitches, the curve ball felt good, the slider got better as the game (progressed), so everything felt good physically, everything felt fine," said Benson.

"There was crispness to all his pitches; he was around the strike zone very well for his first time back facing hitters i(in a year and a half)," Arbuckle said. "So overall, a very positive outing and a good step."
This is very positive news for Phillies fans because the fifth spot in the rotation is wide open with Adam Eaton not only continuing to be pathetic, but he is also having back problems. If all things go well, Benson could be ready to pitch April 9th, which would possibly be the first day that the fifth spot in the rotation would be used. Also, another possible starter would be Travis Blackley, but he was ripped in his first spring start. Let's cross our fingers and hope Benson works out for us and finds a way to make that $5.1 million.