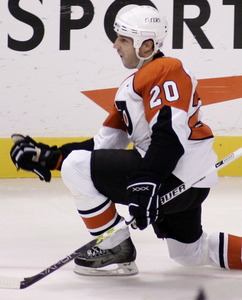 The Flyers will be without forward, R.J. Umberger for at least two weeks after he suffered an MCL sprain in Sunday's debacle against Pittsburgh.

I feel a little bit better today. I woke up a little stiff, but I did some rehab today and I got a little more movement," said Umberger. "I can do the forward movement, it's the side-to-side I can't do right now. It's kind of a wait and see.
Defensemen Derian Hatcher will likely be out for the rest of the year after suffering a fractured right tibula against Boston. Also, Hatcher has made remarks that he plans on playing next year, which would be the final year on his contract.
I still have another year on my contract, and as of now I plan on playing," said the 35-year-old. "I want to play, and I enjoy playing."
These injuries really put a damper on an already disappointing late season attempt to make the playoffs. Umberger has 12 goals and 37 assists this season and he was playing well lately with linemates Daniel Briere and Vinny Prospal. Derian Hatcher's absence from the line-up will mean that Lasse Kukkonen and Jaroslav Modry will continue to see the ice, which spells trouble for the Flyers.