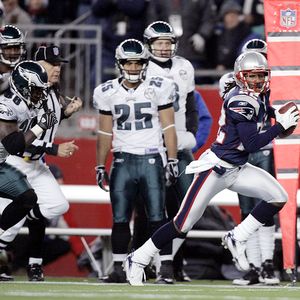 The Eagles have signed former Patriot cornerback, Asante Samuel, to a 6 year deal. The rumored money is $54 million and the contract involves incentives that could push it to $60 million.

Personally, I like the deal as it is a little cheaper than the rumored $10 million a year he was looking for. The Eagles were the first to call and they were the only team that Samuel visited today. He is a play-maker on defense and the Eagles felt that he was the #1 free-agent available.

Donovan McNabb reiterated in NFL live that he wanted to add play-makers, but he mentioned they don't only have to be on his side of the ball and Asante Samuel will fill the play-maker void. Samuel had 16 interceptions over the last two seasons with the Patriots and has 5 in 14 career playoff games.

Andy Reid said that Asante Samuel will be the starting left-cornerback, the same position as Lito Sheppard, so it looks more and more like Sheppard will be moved. I would prefer Sheppard to shift to the right corner and Sheldon Brown to safety, but that situation seems very unlikely to happen. It is more likely that Lito Sheppard will be moved for a draft pick and because he will be moved after the signing of Samuel, his value may have dropped. Teams will know the Eagles are definitely looking to shop him now.

The Eagles also expect to improve the defense tomorrow by signing free-agent defensive-end, Chris Clemons. Clemons is a little under-sized, but he had 8 sacks last year in 16 games, but only started 2 games. He primarily played outside linebacker in the Raiders 3-4 defense. Clemons' agent Don Henderson, made it sound like the Eagles may be his only team he'll visit.

"They're the first team we're going to visit, and maybe the last," Henderson said. "We're excited about Chris coming to Philadelphia."
Clemons could be a nice boost, but I think he's a little small to be a full-time starting defensive-end. He'll likely be their defensive end in passing situations as he as a good burst of speed off the end.
Also, don't count on Javon Walker because the news is that his knee is a mess, but former Eagle Donte Stallworth said he wouldn't mind returning to the Eagles.
I'd expect the Eagles to make at least one more "impact" move to go into the 2008 season whether it be free agency or the draft. The Eagles should also look at going after a third defensive-tackle to give them a healthy rotation.
Eagles Cap Numbers