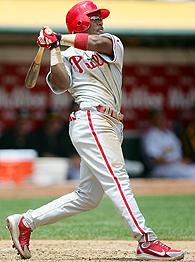 The National League Most Valuable Player award will be announced tomorrow, November 20th. Do you think it will be Jimmy Rollins? For those who do not know, the voting was finished before the one-game playoff game between the Colorado Rockies and the San Diego Padres.

The one big knock on Rollins is the fact the Phillies had other MVP candidates on the team in Chase Utley and Ryan Howard. If the voters include defense and intangibles, Rollins wins easily. If the the voters look at overall offensive numbers, the winner is Holliday. If the voters look at home/away splits, the winner is Rollins.

Tommy LaSorda thinks Rollins should win, I do too, bias aside.